I have quite a few favorite shop on etsy, and Feral Strumpet is one of the shops that first captured my wandering, jewelry-addicted eye. My friend Ally has taken the time to answer these interview questions so we can all learn a little bit more about her and her stunning jewelry :) Here is a chance to take a look and find something special for yourself or a loved one for Valentine's Day as well!
What inspired you to become a jewelry designer?

Ever since I was a teenager scouring thrift stores, I have refurbished vintage jewellery making it into something new, but it wasn't until I moved to Yorkshire from London that I became serious about it. I was jobless, a bit desperate and a friend said, "Why don't you sell the jewellery you make?"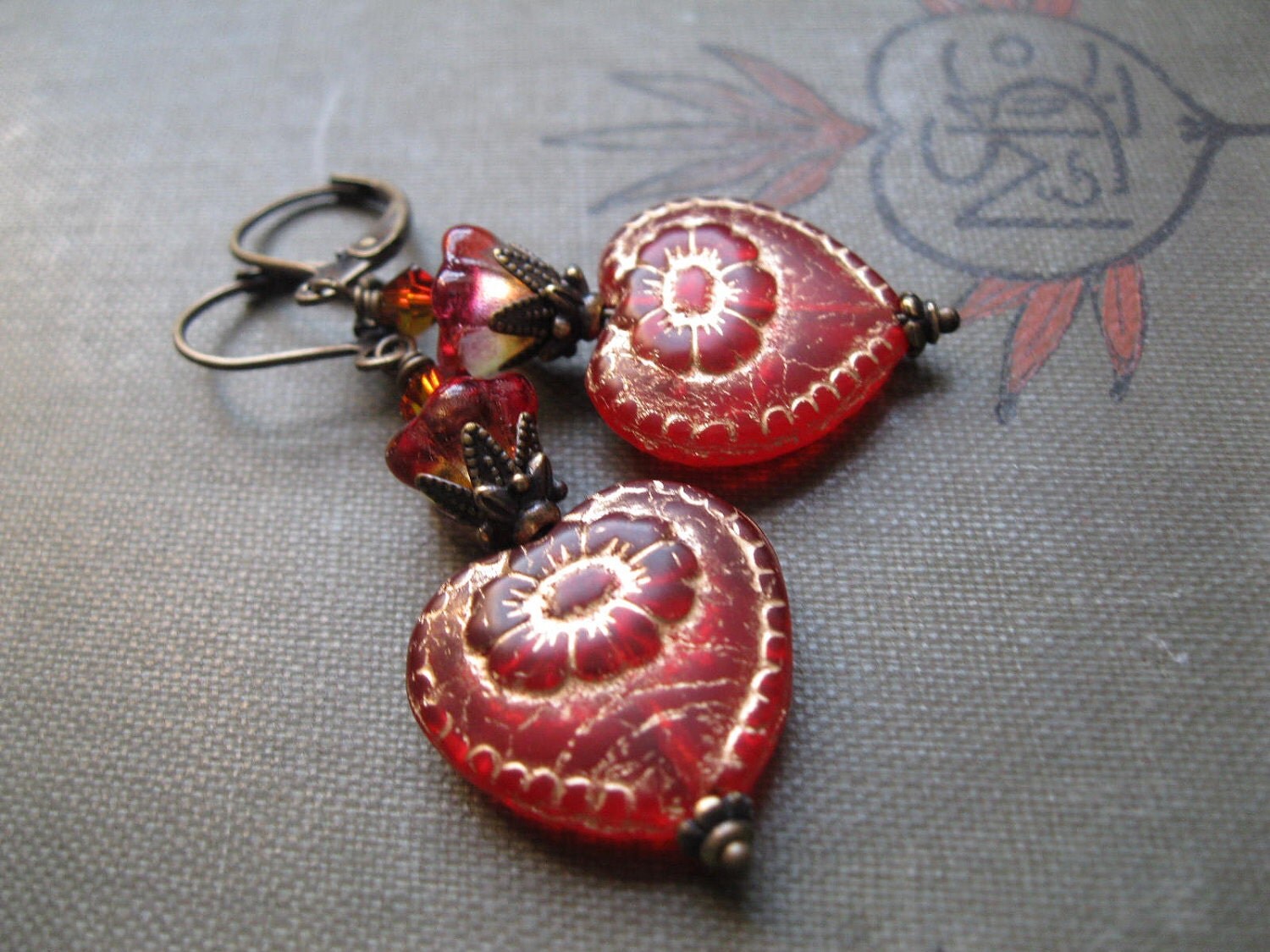 Feral Valentine Red Sacred Heart Earrings by Feral Strumpet
How do you begin your design process and what are your favorite materials?
Most of my designs start from stories, myths and archetypes that surface in my reading and research on the history of Witchcraft in Europe. I love to go hiking on the moors, and often things will come to me suddenly while taking in that vastness. Characters arise and I know what they are wearing-- and then I make it. My favourite materials right now are raw crystals. I have pounds of them which have come to me like wayward children. I've cleaned them-- literally and ritually. Working with them has given me vivid dreams.



You have a lot of wonderful fantasy themes in your pieces. What is your favorite theme to create around?



I think of all the forgotten wise women throughout history, and sometimes I fancy they whisper to me while I work. Also, there is the indulgence of childhood in many of my pieces. I have always loved fantasy literature since I was a child. I used to dream of riding dragons and visiting enchanted places. I guess I haven't changed that much!
Describe the very first piece you created?
My first jewellery I ever made were strings of beads to wear on my wrists. I was covered in bracelets--it was the 80s. But the first piece that marked the particular design that led to me making jewellery professionally was the Black Hearted Love Rosary Necklace:

Versions of this necklace have become a best seller; it has been featured on the front page of Etsy. I made the first one 10 years ago and wear it all the time-- now, I listen to the rosary fragments that come to me. If they want to be black-hearted, that's what I make them.
Tell us a little about the shows where you exhibit and sell your jewelry and creations.
My favourite place to sell is Eastercon, the British Science Fiction convention. There is a great sense of community, enthusiasm and wacky fun. I feel as if I am with my people!
What piece of jewelry remains your favorite?
My current favourite is the Spiral Promise Ring.
Most of my designs are marked by Victorian excess, and it was a delight to make something so simple, meaningful and well-made. I had been perfecting the design for a long time. I wear mine every day.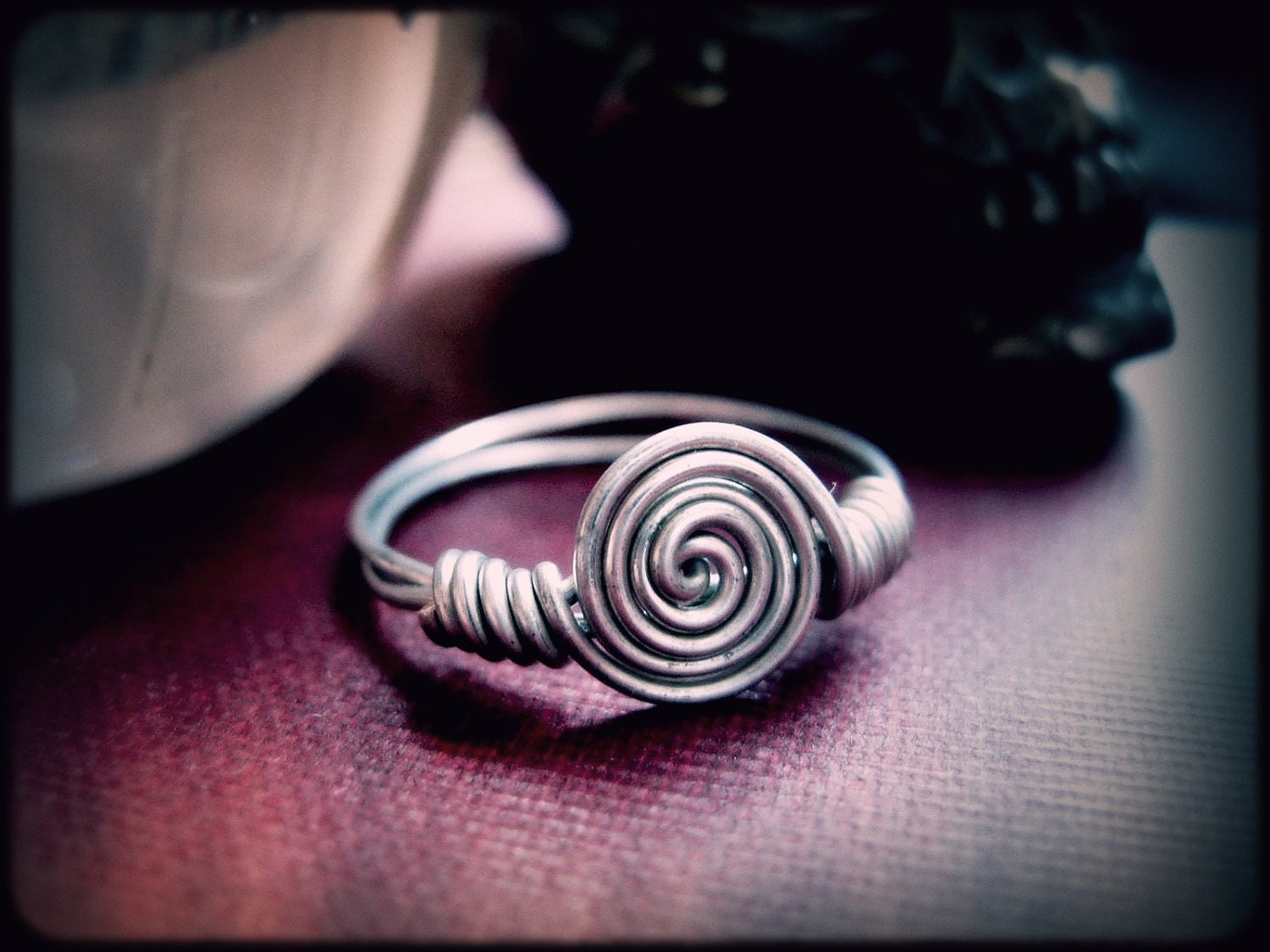 What do you enjoy doing in your spare time?
My secret identity as a tribal bellydancer has recently been revealed. I also love knitting, brewing beer and reading. I have been known to write a novel or two.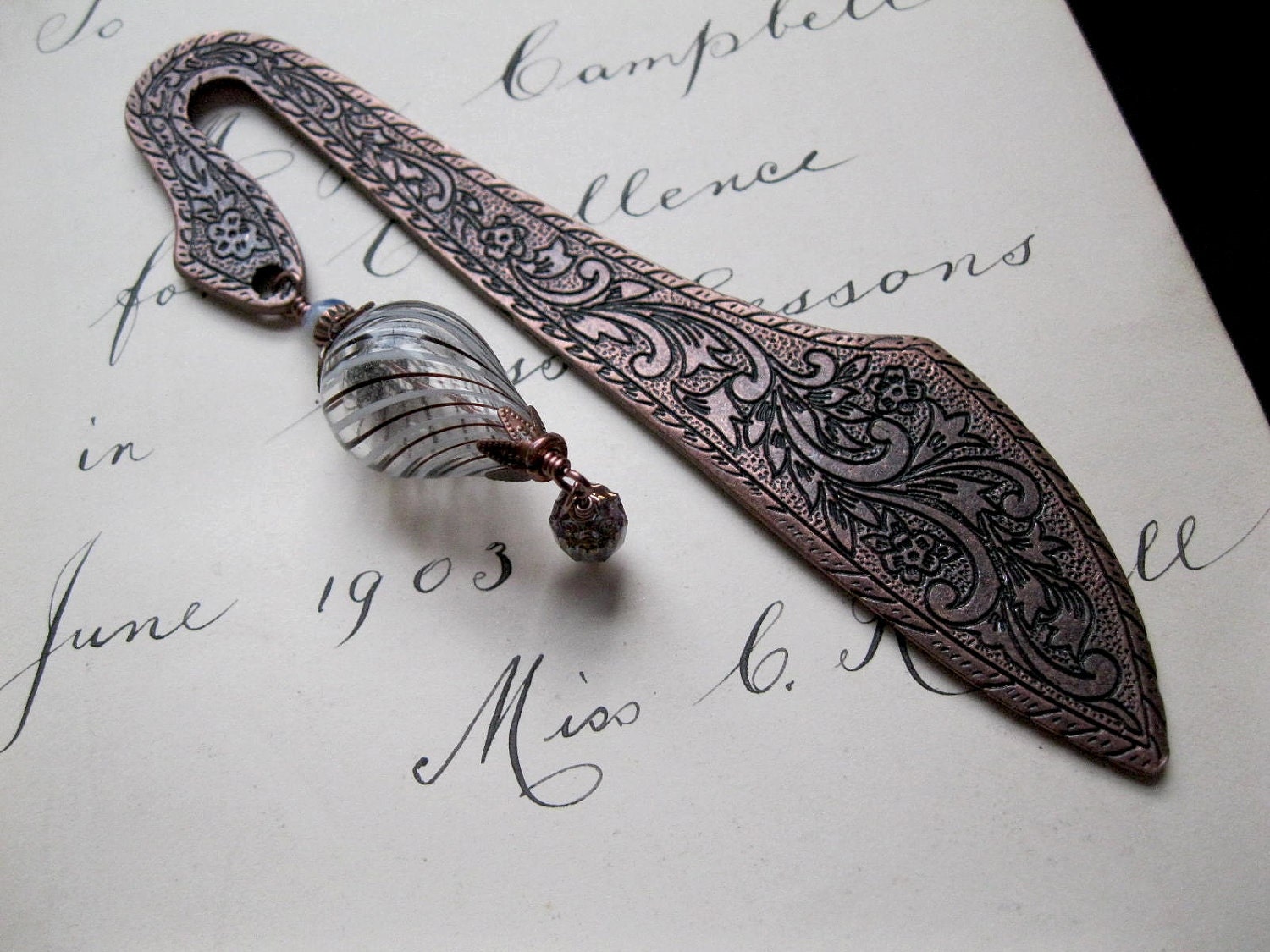 What handmade possession do you treasure the most?
This is the hardest question to answer! I live with handmade things all around me. I will always buy handmade things before I will go to the high street, whether it be perfume (yours!) or tea towels. Is it the Edward Gorey quilt my mother made for me? My new teeshirt by Raintower on Etsy or my constant companion, the Ring of Brodgar ring by Steven Cooper?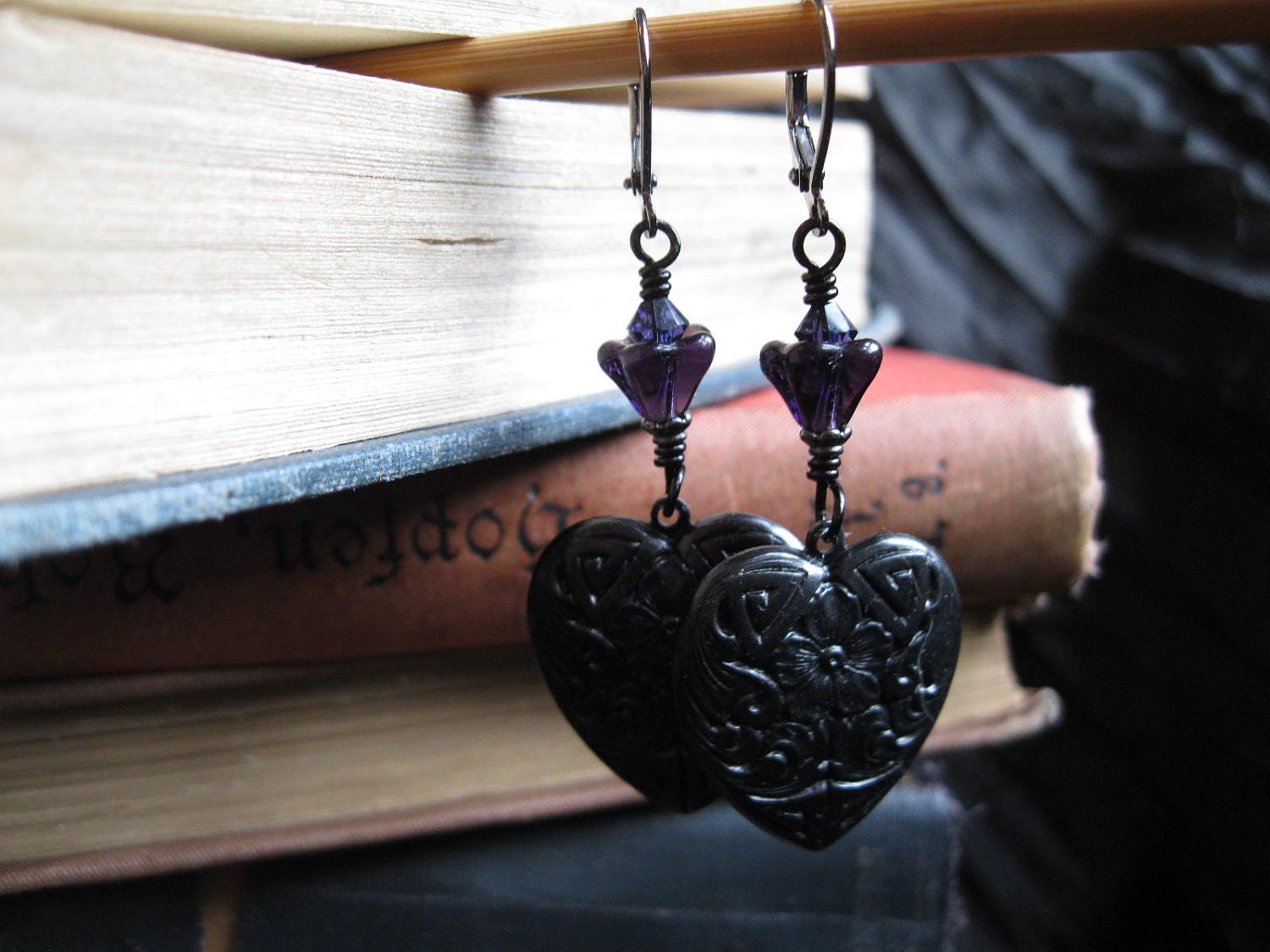 Where can we find your jewelry and wanton whimsies for wildlings?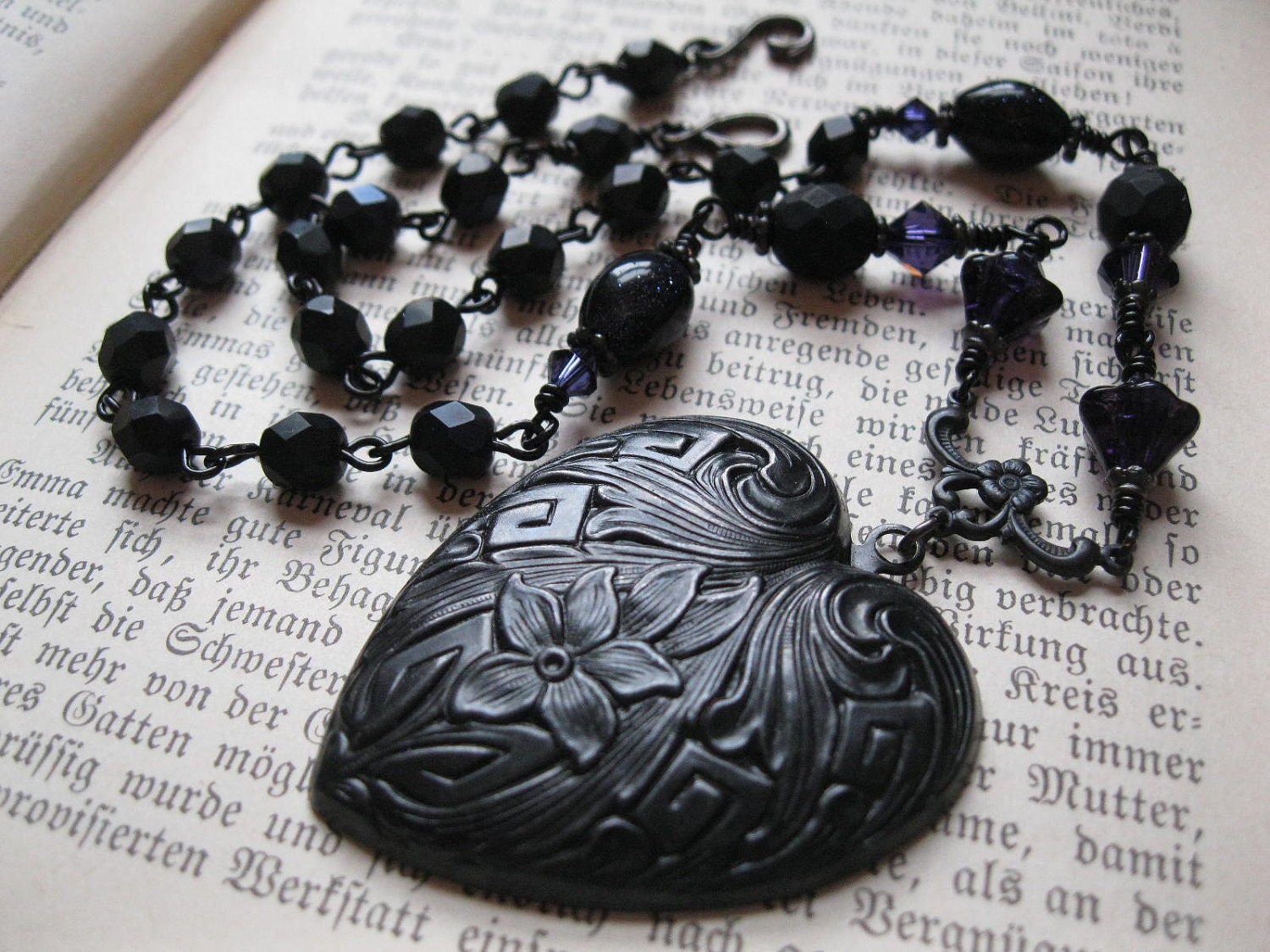 Thank you so much, Ally!
*** All photographs courtsesy of and copyright of Ally Shaw of Feral Strumpet