Greetings, Everyone! Today I have an interview with Joelle Richard, the lovely clothing designer behind Romantica Nocturnis: Victoriana and alternative clothing and accessories for women and men. I hope you enjoy reading about Joelle and her clothing designs :)
Joelle Richard, designer and owner: Romantica Nocturnis
How did you realize you had a calling to design clothing?
My interest in fashion really only peaked once I realized how much I was drawn to the Goth aesthetic. Once I started trying to build myself a Gothic wardrobe, I got the sense that most of the clothes that I wanted to wear weren't available to me, and I would sometimes sketch designs that were in my head. My boyfriend (now fiancé) was the one who suggested I pursue fashion design, and I did need some convincing at first. But I was a waitress at the time and hated my job, so I eventually decided that going back to school and learning a skill that I could use towards a creative career was the way to go.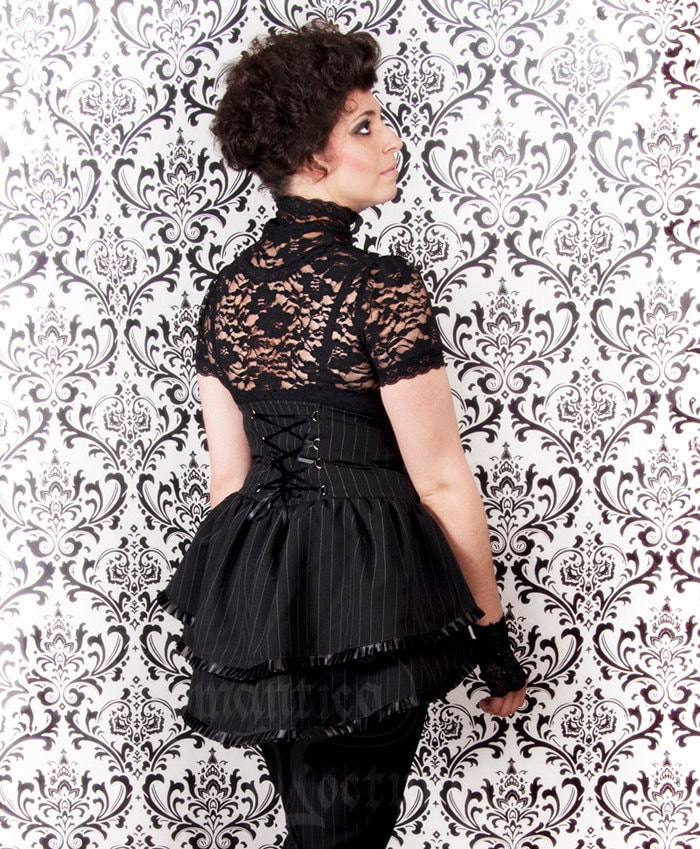 Victorian pinstripe waist skirt by Romantica Nocturnis
How long have you been creating handmade clothing?
I started studying fashion at the New Brunswick College of Craft and Design in 2006, and graduated from the Fashion Design diploma program in 2009, and with a diploma of Advanced Study in 2010. I started up Romantica Nocturnis in September of 2010, so I've been doing it professionally for just over two and a half years, but I would say that I've had the skills to really bring my designs to life since 2009.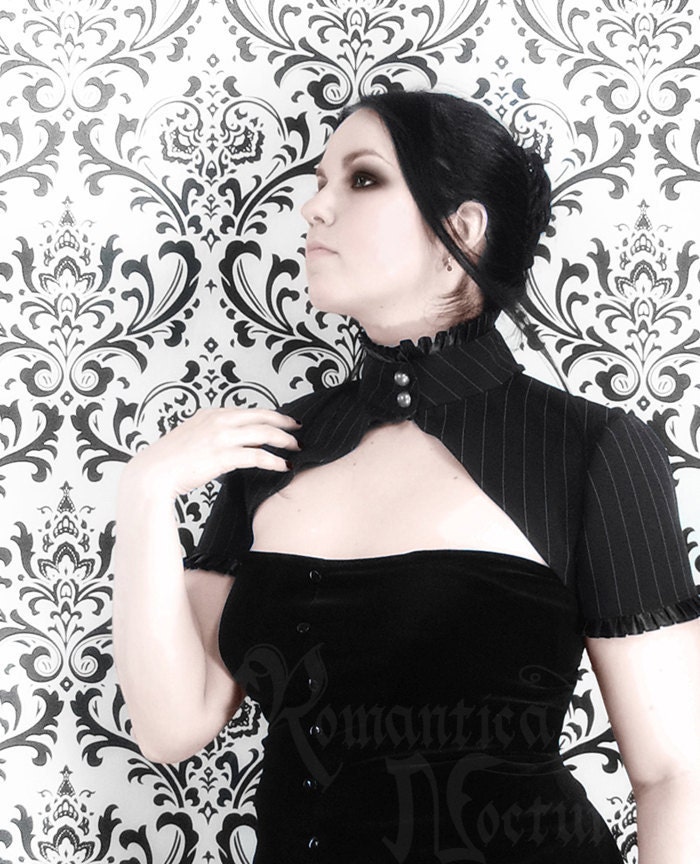 Victorian pinstripe shrug with short sleeves
What or who inspires your creations?
Inspiration can come from endless different places. But I can certainly say that historical fashion, particularly from the Victorian era, has a big draw for me. I never go for historical accuracy, though, I just bring specific elements into my designs. I'll also pick up design elements from other places, like on TV and in movies, photos on the internet, people on the street, even from characters in video games and anime. One tiny detail can inspire a whole outfit, and then that outfit can inspire a whole collection.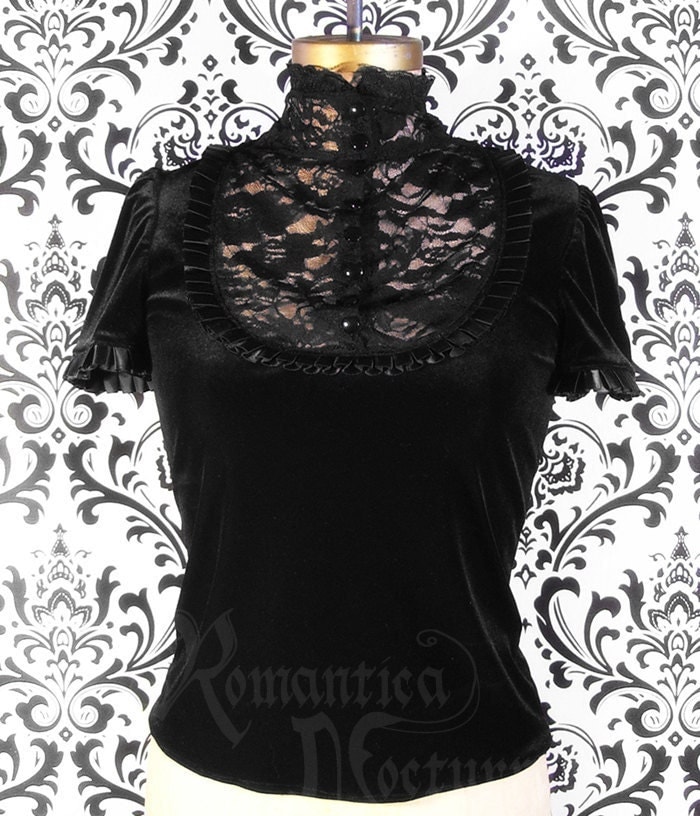 Victorian velvet and lace top by Romantica Nocturnis
How do you begin your design process?
I'd like to say that I always start with a sketch or illustration, but the truth is that sometimes I never commit the ideas to paper. Sometimes I get so excited by a new design idea that I'll want to just jump right in! Next comes pattern drafting, which I get a lot of satisfaction from when I'm able to work out a new kind of pattern all on my own. I'm at a point where I can generally picture in my head, from start to finish, exactly how I'll go about creating a garment, and that's something I'm pretty proud of.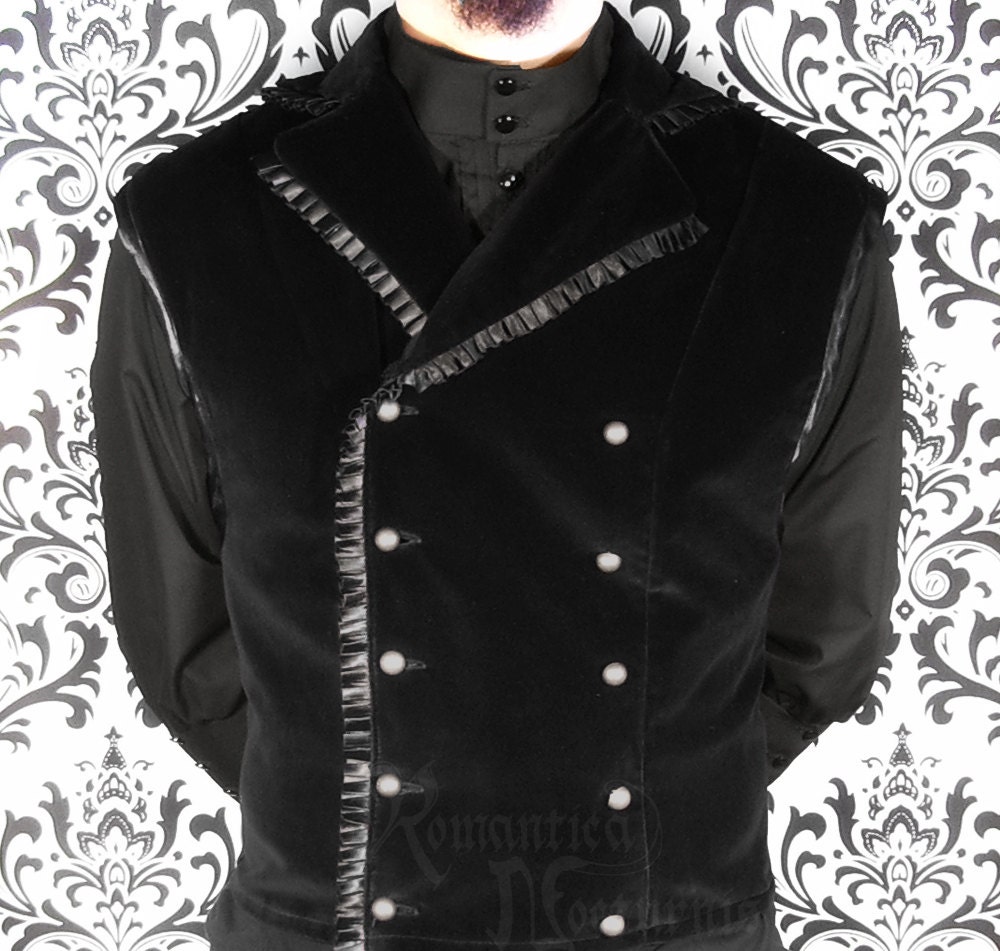 Victorian men's velvet waistcoat
What are your favorite fabrics to work with?
Even as a student I always felt the need to challenge myself with my designs, so I've never shied away from using difficult fabrics. So when I say that I love working with velvet, lace, and satin, it's because I love the look of them, and not because it's easy! Stretch velvet in particular, which I tend to use quite often, can be a real pain to work with. But it's well worth the trouble to have the finished piece be made from a beautiful fabric.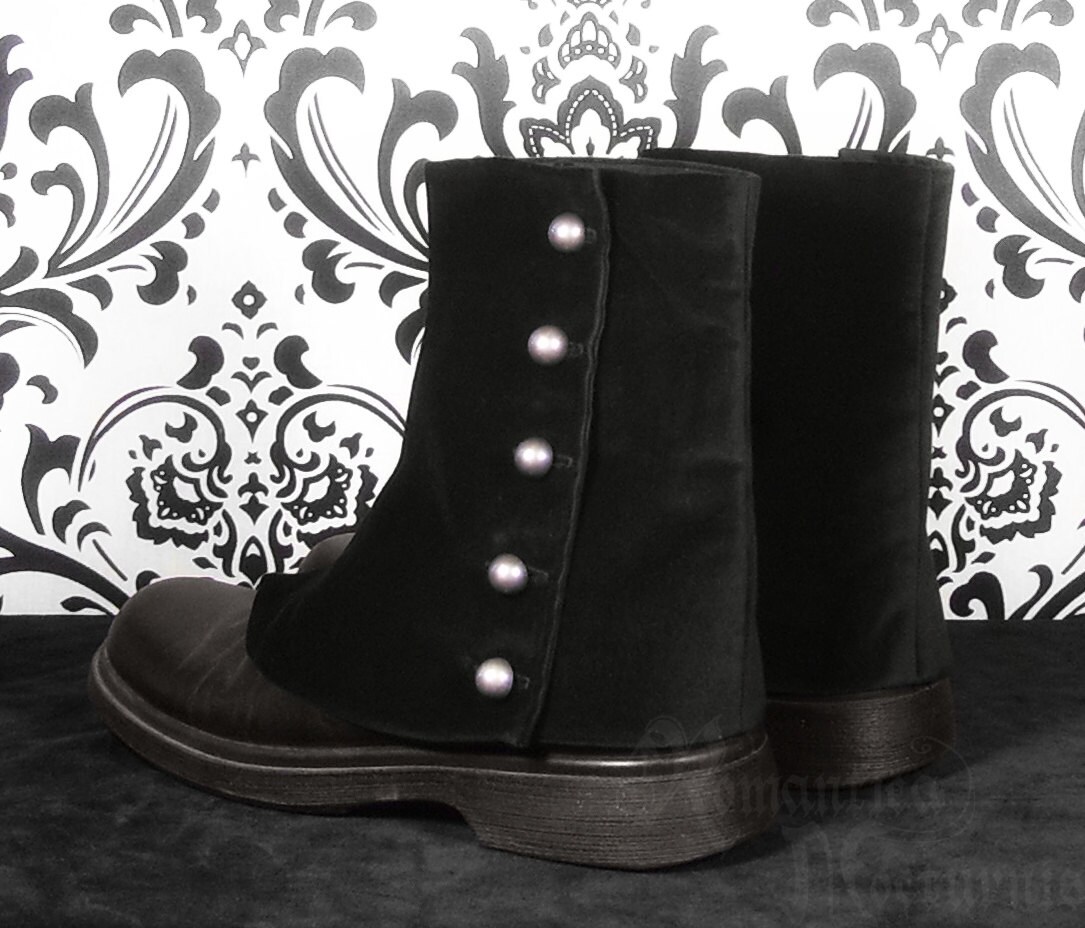 Victorian men's velvet spats
What other things besides clothing do you enjoy creating?
While I've always been a very creative person, especially as a child, I have to say that lately I don't really spend a lot of time making things other than clothing. I've always enjoyed drawing, but I hardly ever draw anymore now. I used to devote a lot of time to playing music too, but don't feel the need to do that anymore either. I painted my kitchen recently, does that count? ;)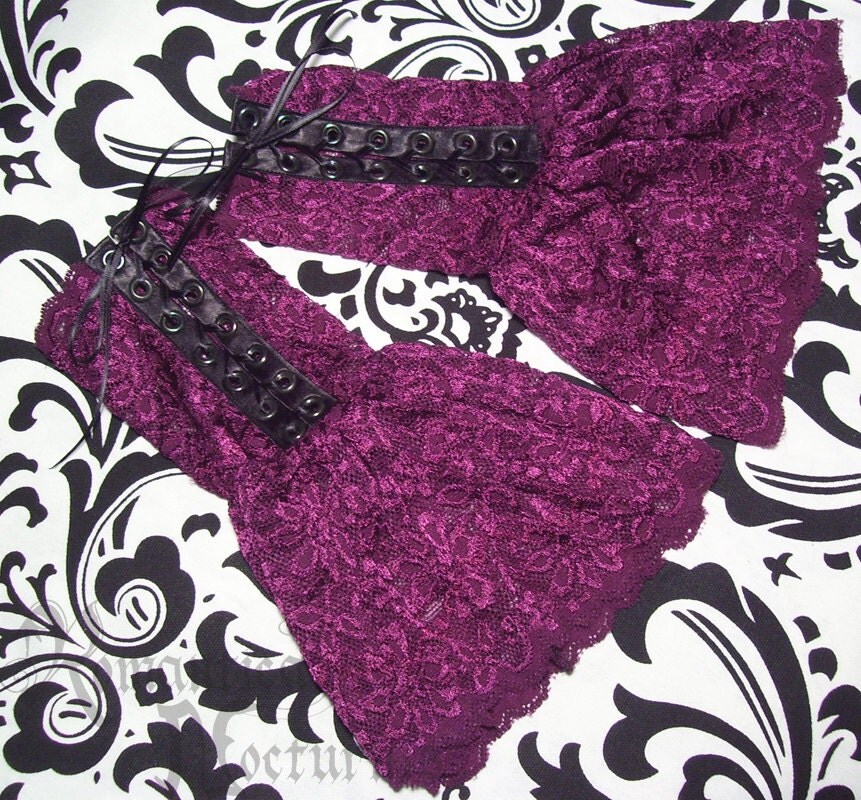 What other interests do you enjoy in your spare time?
Well, I will proudly admit that I'm a giant geek, so a lot of my hobbies are of a geeky nature. I love to read, particularly fantasy novels, and I'm a long-time gamer (currently playing Skyrim and also Tetris occasionally). My fiancé and I also enjoy listening to various podcasts together, and there are, of course, a few TV shows I enjoy - I can't get enough of Once Upon a Time, and am eagerly awaiting season three of Game of Thrones.
Velveteen corset, satin circle skirt and lace shrug, One of a kind by Romantica Nocturnis
What is your favorite quotation?
That's a difficult thing to narrow down, but being very fond of Oscar Wilde I'll choose "You can never be overdressed or overeducated."
Faux-leather bustier and satin bustle skirt, One of a kind by Romantica Nocturnis
Where can we find your lovely clothing designs?
www.etsy.com/shop/RomanticaNocturnis
www.facebook.com/romanticanocturnis
Black velveteen and blue jacquard dress, One of a kind by Romantica Nocturnis
Thank you for the interview, Joelle! Until next time, Dear Readers! xoxo Cat
** ALL PHOTOGRAPHS ARE THE PROPERTY OF AND COPYRIGHT OF JOELLE RICHARDS AND ROMANTICA NOCTURNIS AND ARE USED WITH PERMISSION.